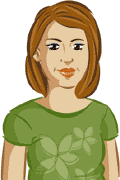 Ms. Kellie M.
specializes in Sign language and special needs tutor · female
"I am an educational interpreter at a school and have been doing educational interpreting for a total of 16 years now. I have a degree in sign language interpreting and transliterating from the University of Akron. I love my school job and want to help others learn sign language.
I have been at an elementary, middle and high school educational setting.
I have worked and do work with special needs students. The students I have worked with have autism, down syndrome or cognitive delays.
I have created a sign language club with the hearing impaired student to communicate with the regular students at the school I am presently at."
Details
| | |
| --- | --- |
| fee: | $25 (for 60 min) |
| travel distance: | 20 miles |
| meeting type: | either in-person or online |
Contact
Education and Qualifications
| | |
| --- | --- |
| certified: | |
| | |
College of Education/University of Akron, Sign language
Rasmussen College, Other
Medina, OH 44256
Subjects Tutored

Sign Language - Hard of Hearing