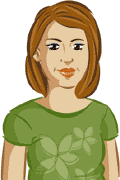 Ms. Jennifer M.
specializes in Speech/Language Therapist/Sign Language · female
"I am a PA licensed Speech/Language Therapist working with Pediatric population. I also hold a teaching certificate for Speech/Language. I am a PROMPT level 2 therapist and provide various modes of communication for typical children as well as those suffering from a communication difference.
I utilize sign language on a daily basis at home and in the work environment. I love to provide various ways for people to communicate, as speaking is not always the best route. I also enjoy educating others with regards to development of speech/language.
Please contact me if Sign Language is of interest."
Details
| | |
| --- | --- |
| fee: | $50 (for 60 min) |
| travel distance: | 40 miles |
| meeting type: | in-person (not online) |
Contact
Education and Qualifications
| | |
| --- | --- |
| certified: | |
| | |
Edinburg university of pa, Speech Hearing
Edinburg university of pa, Masters
Erie, PA 16506
Subjects Tutored

Phonics - Special Needs - Sign Language