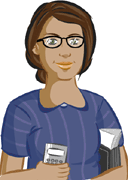 Lauren H.
specializes in Test Prep and Math · 22-30 years old female
"Lauren Heymann specializes in elementary math (common core, geometry, algebra), ACT, SAT, GRE, and Microsoft computer computer applications. She has experience teaching students with ADD-ADHD, dyscalculia, Aspergers, autism. If you're looking for an humanities tutor - Lauren is your best pick. Feel free to contact Lauren in Denver, CO through the form on your left."
Details
| | |
| --- | --- |
| fee: | $35 (for 60 min, negotiable) |
| years of tutoring: | 5-10 |
| students tutored: | 100 and more |
| travel distance: | 10 miles |
| tutoring method: | in-person and online |
| member for: | 1 year and 2 months |
| award: | apple |
Contact
| | |
| --- | --- |
| email: | on file |
| phone: | on file |
Education and Qualifications
I graduated with a BS in Marine Science and a BA in Plan II Honors from the University of Texas at Austin in 2016, and I have been a tutor for all ages over the past 6 years. I love this job because I enjoy helping people improve their minds and their lives through education. I have tutored privately, through remote agencies, with Americorps, and at a brick-and-mortar tutoring company. What Ive seen from my years of experience is that students respond well to a tutor who is positive, knowledgeable, and accessible. I strive to be that role model for any student I spend time with, and I believe that a friendly connection can reinforce the learning process. I like getting to know my students and finding some common ground before delving into the subject material so that the students feel comfortable with me. I tutor test prep (ACT, SAT, ISEE, SSAT, PSAT, GRE) as well as all of the core subjects including math, English, history, and science at almost every level from elementary to college. I have found that my college experience was very well-rounded academically, which enables me to teach a wide range of subjects. However, I am most comfortable teaching math subjects, any and all reading/writing, and most science subjects. Outside of academia, I enjoy playing video games, writing/reading, dancing/singing, and cooking healthy foods. I am very passionate about tutoring, and I can't wait to continue both my path and the paths of my students!
Denver, CO 80226
full address is on file
Subjects Tutored

Elementary & Junior High School
Computer Basics
Elementary
Elementary Math
Elementary Reading
Elementary Science
English Language Arts
Grammar
Home Schooling
Language Art
Phonics
Reading
Reading (Dyslexia)
Study Skills
Special Needs
ADD-ADHD
Aspergers
Autism
Dyscalculia
Dyslexia
General Ed
Biology
Common Core
Computer
English
Math
Science
Spelling
Vocabulary
Writing
Math
Algebra
Algebra 1
Algebra 2
Geometry
Pre-Algebra
Languages
German
Computer & Internet
Microsoft Office
Microsoft PowerPoint
Microsoft Windows
Microsoft Word
Word Processing
College
African Studies
Anthropology
Botany
Career Planning
Creative Writing
Earth Science
Education
Essay
Essay Writing
Humanities
Liberal Arts
Literature
Marine Biology
Oceanography
Proofreading
Term Paper
Writing Composition
Zoology
Test Prep
ACT
ACT English
ACT Math
ACT Reading
ACT Science
GED
GRE
ISEE
NMSQT
PSAT
SAT I
SAT Math
SAT Reading
SAT Writing
SSAT