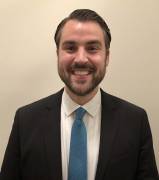 | | | | | | | | |
| --- | --- | --- | --- | --- | --- | --- | --- |
| | S | M | T | W | T | F | S |
| 8 am | | | | | | | |
| 9 | | | | | | | |
| 10 | | | | | | | |
| 11 | | | | | | | |
| 12 | | | | | | | |
| 1 pm | | | | | | | |
| 2 | | | | | | | |
| 3 | | | | | | | |
| 4 | | | | | | | |
| 5 | | | | | | | |
| 6 | | | | | | | |
| 7 | | | | | | | |
| 8 | | | | | | | |
| 9 | | | | | | | |
| 10 | | | | | | | |
Schedule Legend:
busy
available
Mr. Matthew H.
Bachelor degree · specializes in Test Prep, Math, English · 41-50 years old male

red apple award - tutoring excellence
"May I be a personal tutor for you or your child? I have been successfully tutoring for over 12 years. I have some glowing letters of recommendation, and among the highest ratings in this region. I graduated with honors, Summa Cum Laude from Case Western Reserve University, where I made the Dean's List. I also earned a Provost Academic Scholarship for my excellent test scores, including 780 in SAT more...
"May I be a personal tutor for you or your child? I have been successfully tutoring for over 12 years. I have some glowing letters of recommendation, and among the highest ratings in this region. I graduated with honors, Summa Cum Laude from Case Western Reserve University, where I made the Dean's List. I also earned a Provost Academic Scholarship for my excellent test scores, including 780 in SAT mathematics and 32 in ACT mathematics.
In addition to teaching for Cleveland schools, I currently teach 20 private sessions each week, 1st through 12th grade, as well as college students and business professionals. I have also served on the faculty at Cuyahoga Community College.
I am patient, friendly and many students tell me that I explain concepts more effectively than their teachers. I am available weekdays or weekends, days or nights, throughout the entire year. Best of all, my rates are cheaper than many tutors, and for your convenience, I can drive directly to you. I would be happy to answer any questions you might have regarding my experience and teaching methods. While it should go without saying, I have a clean background that has been verified by the FBI and BCI.
I appreciate your time and consideration and look forward to being at your service!
Thank you,
Matthew J. Horwich
My subjects include:
Standardized Tests: ACT, SAT, GMAT, GRE, ISEE, HSPT, TACHS, COOP, PSAT, NMSQT, ASVAB, AFQT, ASTB, OAR, GED, TOEFL, IELTS, TOEIC, TEAS, HESI
Mathematics: algebra I and II, geometry, trigonometry, pre-algebra, elementary
English: grammar, vocabulary, spelling, reading, writing, listening, speaking, pronunciation, ESL, ESOL
Research Papers: editing, proofreading, outlining, analyzing, citations
Computer: Excel, Word, PowerPoint, QuickBooks
Special Needs: ADHD, Dyslexia, Autism, Asperger's, study skills
Music: theory, ear training, sight singing, improvisation, saxophone
Job Seeking: resume writing, cover letters, T-Letters, LinkedIn, job search techniques
Professional Services: bookkeeping, AP/AR, property management, office automation" less...
Details
| | |
| --- | --- |
| fee: | $120 (for 60 min) |
| years of tutoring: | 10 and more |
| students tutored: | 100 and more |
| travel distance: | 30 miles |
| meeting type: | either in-person or online |
| member for: | 10 years and 7 months |
| award: | Red apple |
| references: | Sheryl Deppisch Sreenivas Karnati Evangeline Ramsay Lauren Raff "I am pleased to give Matthew the highest endorsement for his professionalism, his skills and approach to individualized tutoring. My son just completed a number of sessions of ACT tutoring with Matthew. They worked hard together during the session and he provided suggestions for work in between sessions. From the initial conversation we had on the phone, I could tell that Matthew understood the nuances of the exam and the need to tailor coaching content and style to each student's particular needs. Matthew's correspondence with me was always prompt, clear, and respectful of my time and my son's time. While we do not yet have his new test results back, we know that my son went into the test more knowledgeable, more thoughtful, and more confident as a result of Matthew's work with him. We are grateful to have found him!" |
Contact
| | |
| --- | --- |
| email: | on file |
| phone: | on file |
| website: | on file |
Education and Qualifications
| | |
| --- | --- |
| school: | Case Western Reserve University |
| | |
Cleveland, OH 44114
full address is on file
Subjects Tutored

Elementary & Junior High School
Computer Basics
Elementary
Elementary Math
Elementary Reading
Elementary Science
English Language Arts
Grammar
Home Schooling
Language Art
Phonics
Pre-school
Reading
Reading (Dyslexia)
Study Skills
Special Needs
ADD-ADHD
Applied Behavioral Analysis
Aspergers
Autism
Dyscalculia
Dyslexia
Obsessive-Compulsive Disorder
Special Needs
General Ed
Biology
Common Core
Computer
English
Geography
History
Math
Science
Spelling
Vocabulary
Writing
Math
Algebra
Algebra 1
Algebra 2
Applied Math
Geometry
Numerical Analysis
Pre-Algebra
Pre-Calculus
Probability
Statistics
Trigonometry
Languages
English as 2nd Language
ESL
Business
Accounting
Entrepreneurship
Finance
Interviewing Skills
Management Skills
Networking
Project Management
Resume Writing
Speech
Typing
Computer & Internet
Apple
Information Systems
Information Technology
Mac
Microsoft Excel
Microsoft Office
Microsoft Outlook
Microsoft PowerPoint
Microsoft Windows
Microsoft Word
Word Processing
Music
Jazz
Music
Music Theory
Saxophone
Sports
Tennis
College
Creative Writing
Education
Essay
Essay Writing
Proofreading
Term Paper
Writing Composition
Test Prep
ACT
ACT English
ACT Math
ACT Reading
ACT Science
AFOQT
AFQT
ASTB
ASVAB
CBEST
CLAST
CLEP
COOP
DAT
EFL
FCAT
GED
GMAT
GRE
HESI-A2
HiSET
HSPT
IELTS
ISEE
NCLEX-RN
NMSQT
OAR
PRAXIS
PSAT
Regents
SAT I
SAT II
SAT Math
SAT Reading
SAT Writing
SHSAT
SSAT
TABE
TACHS
TEAS
TOEFL
TOEIC
TOESL
TSI
WASL
4.8 out of 5 stars
Rating and Reviews
"A very likeable person"
He is understanding of our schedule and is a very likeable person. My nephew really likes him and found ease in the methods of doing math equations that Mr. Matt showed him. We will continue to work with him. I highly recommend him to others.
"Very Friendly and Laid Back"
I hired Matt to specifically help me prepare for the Quantitative section of the GMAT. We met online for several 2 hour tutoring sessions over the course of a month. Matt was very understanding of my busy work schedule and worked our appointments around this. During our tutoring sessions, Matt did a great job of explaining and helping me solve GMAT exam practice problems. He is very friendly and laid back, while also being an utmost professional. I highly recommend him for any of your graduate school level exam preparations.
"Recommend Matt to any Parent"
Matt has been awesome for my student. His math skills have improved greatly and his writing has come from illegible to what can now be described as neat and readable. Matt has been very patient and deliberate with our son, and has taken the time to really explain things to Jake in a way he can understand. We would recommend this tutor to any parent looking for a tutor for their grammar school student! Matt is also reliable and prompt, and showed up when expected which was helpful with our very busy schedules.
"Matt's Techniques Made Me Confident"
I am a junior and I had a really bad ACT score that I needed to improve significantly. Matt came and helped me as soon as I contacted him. Unlike other tutors, Matt took me seriously and clearly understood I wanted help with my ACT score. Matt was very patient with me and treated me like a teacher would treat his or her student. I take the ACT tomorrow and unlike the first time I took it, I'm not nervous at all. I'm very confident Matt's techniques helped me and I suggest anyone who is looking for ACT help to contact Matt.
"Knows Mathematics Through and Through"
Mathew did a great job understanding my needs. I had an exam I had to pass in a short amount of time and needed his assistance. We were able to go through many examples of what I thought I did wrong and we were able to correct the mistakes I was making. I would highly recommend Mathew as he knows mathematics through and through.
"Very impressed with Matt"
I was very impressed with Matt, he put me right at ease and I felt like he helped me a lot in our first meeting. I am looking forward to our coming meetings and feeling more confident with my skills.
"Featured Tutor"
In 2013 Matt has been twice TutorZ' featured tutor. I've had several email communications with Matt in which he impressed me with this professional communication style, wit and easy easygoingness. I strong recommend Matt to new students and parents of TutorZ.