Find me a Tutor in the State of Virginia
Virginia is nicknamed the "Mother of Presidents" because it is the birthplace of eight U.S. presidents. The capital of Virginia is Richmond; Virginia Beach is the most populous city and Fairfax County the most populous political subdivision. As of 2010, there are 167 colleges and universities in Virginia. In the U.S. News and World Report ranking of public colleges, the University of Virginia is second and The College of William & Mary is sixth. Virginia Commonwealth University is ranked the top public graduate school in fine arts, while University has been recognized as the top public master"s program in The South. George Mason University is the largest university in Virginia.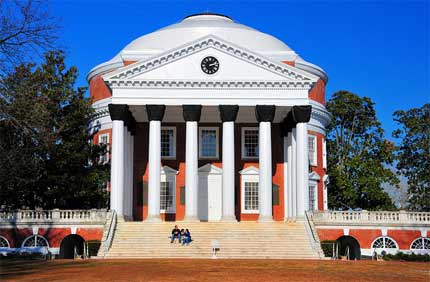 University of Virginia was founded by president Thomas Jefferson — the rotunda

Flag of Virginia

Map of Virginia

Thomas Jefferson loved the university gardens




Find me a Tutor in the State of Virginia

I like TutorZ because as soon as I get a notification, I purchase the lead for as little as two dollars. Within minutes I have made a call or sent a direct email. I usually set up a first session for that week....sometimes that very same day! Now let's start studying....
by Matt Horwich, Cleveland, OH
More Testimonials